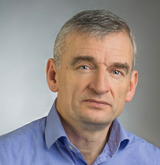 Terry Clancy
Managing Director

Terry Clancy is a very experienced results orientated innovative thinker with the ability to develop and implement strategic plans, product roadmaps and programmes and organisational changes resulting in significant step performance improvements in business results and creating high performance cultures. He has worked with technology led multinationals in what has been a very successful career rising continually through the ranks on foot of exceptional delivery in each of his roles. Terry worked with Checkpoint Systems for ten years and transitioned into his last role with the company in 2008 as Vice President and General Manager. In this role he was responsible for a $220m global business unit. His role focused on driving sales of new and more profitable solutions, continuous cost reduction and product line optimisation while also developing and upgrading of product management skills all to drive focus on business targets.

Prior to assuming this position he held a number of senior positions at Checkpoint. He held the position of Senior Director Technology and Innovation Advisor. In this role he was tasked with helping prepare the organisation to move from a consolidation to growth phase which required the development of an Innovation Process, far reaching Product Roadmaps and targets for acquisition. Terry also held the role of Director, R&D, Product Management and Technical Support for three global product lines and was a key member of the integration team when Checkpoint acquired his previous company Meto International.

In Meto, Terry's last role was that of Global R&D, Product Management and Technical Support Manager where he was ultimately responsible for three of the four business units in the organisation with revenues approximately $250m. Previous to that Terry was took the role of Software Solutions Development Manager with a small Irish software house (East Coast Software) and before that had multiple development and product roles in Amstrad plc in the UK. For the last couple of years Terry as worked for his own consulting firm helping companies in US and Europe to develop.

Terry has a passion for innovation, people management, and meeting customer needs has been a common thread throughout his career to date. He possesses excellent operational experience and a track record of leading and developing teams to support different business needs. He has developed skills in change management, project management and operations in addition to developing strategy while also managing the execution of the business tasks.